The Microsoft 365 Roadmap gives us all the ability to stay up to date with the features or changes being developed, rolled out and launched within Microsoft 365. Please see Understanding Office 365 Release Cadence to explain when a feature might be deployed in your tenant.
Using the web user interface (UI) you can focus on the products that interest you by checking one or more of the appropriate left-hand product filters, with each represented as an additional HTTP parameter. You can then save the final URL your browser favourites e.g.
https://www.microsoft.com/en-us/microsoft-365/roadmap?filters=SharePoint%2CMicrosoft%20Teams%2COneDrive%20for%20Business
In addition to the web UI, there is an RSS feed, allowing you subscribe to updates across all products. But what if you are only interested in everything to with Microsoft Teams? Well, Tom Morgan, MVP has kindly, developed an alternative filterable Microsoft 365 Roadmap RSS feed to show only a specific product such as Microsoft Teams.
I have resurfaced each of Tom's RSS feeds per the products shown below, as single page views which you can reach by clicking on the desired icon. The first thing you will notice is the column headers to identify features under development, rolled out and launched. Secondly, the coloured tags to allow you to scan the updates relevant to a feature in a product e.g. web parts in the SharePoint RSS feed.
Please let me know what you think, including any missing product pages you would like me to add.
Understanding the Office 365 Release Cadence
Unfortunately there is not yet a release notification per tenant to show the precise time when you might see feature in your tenant. Instead there is a defined schedule that Microsoft adopts, once a change goes through the initial testing and QA phase. This starts with the feature being deployed to MSIT tenant for internal testing by a wider group of internal users at Microsoft. After this stage, it can be released in to 'production' which is is when you get the associated notification in the Office 365 Admin Portal: Message Center e.g.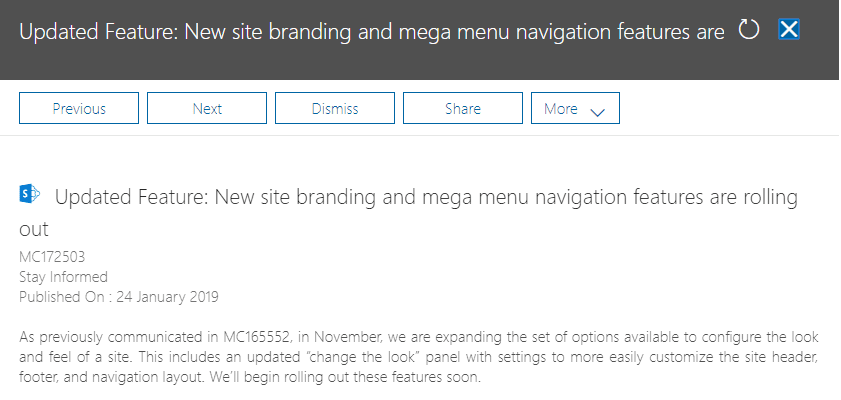 The 'production' phase starts with Target Release tenants. This itself is divided into steps, covering 10%, 50%, the 100% of all Target Release tenants. The duration of this phase is 2 weeks from the first announcement. Note, you can elect to be part of the Targeted Release phase by going Office 365 Admin Portal: Organisational Profile which is under Settings.

Beyond Target release phase there is there remaining tenants which again are divided into steps, covering 10%, 50%, then 100% of all the remaining tenants. This phase lasting between 2 and 4 weeks because this of the number of tenants involved.